Cosmetic Dentistry
cosmetic dentistry is typically used to refer to any dental work that improves the appearance of tooth, gums and or bite. It typically specializes in development dental aesthetics in color, role, shape, size, alignment and common smile look. When you going for cosmetic dentist to talk about making some enhancements for your smile, you and your dentist can work at removing your insecurities and feel happy with your smile.

That magnificent smile is no longer a fantasy. Now it can be yours! Recent advances in techniques and materials offer modern practitioners of esthetic dentistry in India many alternatives in the creation of brilliant smiles like movie stars, bursting with energy and radiating enthusiasm. We have not yet discovered the magic wand, but we are getting closer. There are many exciting options
Dental Veneers
Veneers are a skinny shell constituted of porcelain or composite material. They may be custom made and cemented to the front facet of the enamel. A veneer may be used to deal with dental situations such as a barely crooked tooth, discolored enamel, chipped tooth or maybe to cowl spaces in between the teeth.

Lumineers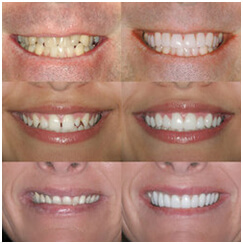 A Lumineers restoration is as thin as a contact lens and placed over existing teeth without having to remove tooth structure. Like traditional porcelain veneers, Lumineers restorations are an excellent cosmetic solution for stained, chipped, discolored or misaligned teeth.
An ideal candidate for Lumineers must have enough remaining tooth surface on which to bond the Lumineers to ensure long-term results. Since Lumineers do not require the removal of tooth structure, they can be removed if circumstances require it.
Advantages
Porcelain veneers are very strong, very hard, highly durable, and have a high resistance to staining. They also have the glassiness and translucence that is very close to natural tooth materials.
Depigmentation of Gums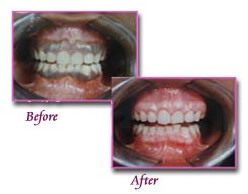 Dark pigmented gum tissue comes from many causes. These causes includes physiological pigmentation, amalgam "tattoo" (discoloration from silver fillings), and poor crown and margin restorations. This dark pigmentation can be permanently removed using a surgical procedure.
Depigmentation of gums is a simple surgical procedure that can be performed in a minimal amount of time under local anesthesia. The dark pigmented areas are removed to expose the naturally pink tissue underneath. A surgical dressing is applied to assist in the healing process, which should be quick and problem free if post-surgical care instructions are followed.
Inlays/Onlays
The indirect composite 'white filling' is called Inlay/Onlay. They are similar to tooth colored fillings except that they are made in a dental laboratory. However, when it comes to strength and teeth cosmetics, the extra time and expense is well worth it! These fillings are usually placed in back teeth when esthetics is of utmost concern. In order to increase their strength and longevity, they are fabricated in the laboratory and then bonded into position in the office.

Copyright © 2018 Classic Dental Clinic . All rights reserved