Oral Surgery
Complicated Extractions
Local Anaesthetic Extractions
Surgical Removal of Roots
Impacted Wisdom Teeth(Partially/Fully impacted) and others impacted teeth
Incision And Drainage
Excision of Hyperplastic tissues (Flappy, floppy growths of flesh)
WISDOM TEETH - TO KEEP OR NOT TO KEEP?
Wisdom teeth also known as third molars are the last teeth to erupt. Wisdom teeth may become a problem for you as they grow and develop in each corner of your mouth. Problems often develop gradually since development normally spans several years. Nevertheless, these gradual changes can cause sudden and severe pain. Understanding why such things can happen may help you to deal with these problems, or better still, to encourage you to take preventive measures before they occur.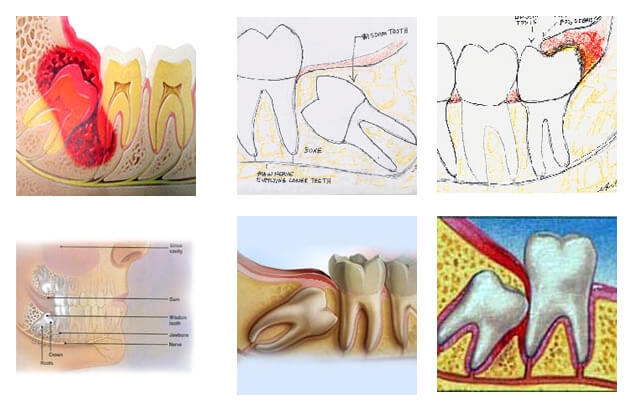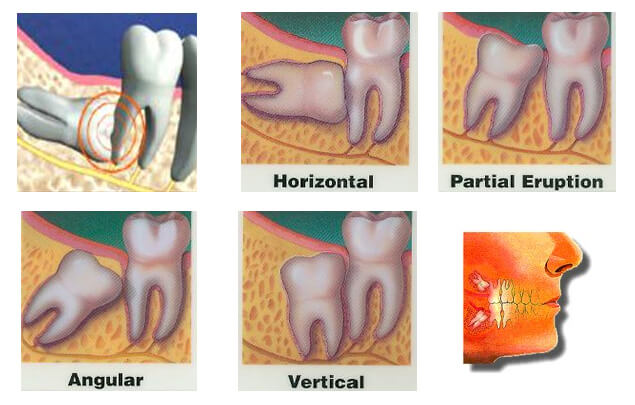 The jawbone grows to approximately its adult size by your late teens. Unfortunately, that size is often too small to hold developing wisdom teeth. This happens because our jaws are smaller than those of early humans who needed large jaws and more teeth for their tougher diet.

When there is not enough room for your wisdom teeth, they may become impacted, or partially trapped in the jawbone and gums. The crown, or top of the tooth, may erupt, or just break through the gum, or it may remain completely within the bone. The roots can grow in unusual directions and may cause a variety of problems in your mouth and with your sinus cavity or the nerve in your lower jaw. The primary preventive measure for wisdom teeth is removal, preferably at an early stage.
IMPACTED WISDOM TOOTH
Porcelain fused to metal
A tooth becomes impacted due to lack of space in the dental arch and its eruption is therefore prevented by gum, bone, another tooth or all three. Lack of space occurs because our jaws have become smaller through evolution. We do not lose teeth through decay as frequently as in the past and our diet does not wear down our teeth as much.

A wisdom tooth may grow toward your other teeth, away from them, or even in horizontal or vertical positions. When such conditions occur, it's far simpler and less painful to have them removed early before they have a chance to firmly anchor in your jaw as the teeth grow and the roots lengthen.
WHY REMOVE WISDOM TEETH?
Wisdom teeth generally cause problems when they erupt partially through the gum.

Below are the most common reasons for removing wisdom teeth.
TOOTH DECAY

Saliva, bacteria and food particles can collect around an impacted wisdom tooth, causing it, or the next tooth to decay. It is very difficult to remove such decay. Pain and infection will usually follow.
GUM INFECTION
When a wisdom tooth is partially erupted, food and bacteria collect under the gum causing a local infection. This may result in bad breath, pain, swelling and the inability to open your mouth fully. The infection can spread to involve the cheek and neck. Once the initial episode occurs, each subsequent attack becomes more frequent and more severe.
PRESSURE PAIN
Pain may also come from the pressure of the erupting wisdom tooth against other teeth. In some cases this pressure may cause the erosion of these teeth.
ORTHODONTIC REASONS
Many younger patients have had prolonged orthodontic treatment to straighten teeth. Wisdom teeth may cause movement of teeth particularly the front teeth when they try to erupt. This will compromise the orthodontic result
PROSTHETIC REASONS
Patients who are to have dentures, constructed should have any wisdom tooth removed. If a wisdom tooth erupts beneath a denture it will cause severe irritation and if removed, the patient will need to have a new denture constructed as the shape of the gum will have changed.
CYST FORMATION
A cyst (fluid filled sac) can develop from the soft tissue around an impacted wisdom tooth. Cysts cause bone destruction, jaw expansion and displacement or damage to nearby teeth. The removal of the tooth and cyst is necessary to prevent further bone loss. Tumors may develop within these cysts or the jaw may fracture spontaneously if the cyst grows very large.
THE OPERATION
Surgery is often done at your dentist's practice rather than in a hospital. Your dentist will review the recommended procedure with you so that you will fully understand and be comfortable with the procedure before it is done. You will also be given information about eating, medication, rest, driving, and other considerations before surgery as well as after.

Many people have their wisdom teeth removed under local anesthesia by their dentist. This means that they are awake but the area around the wisdom teeth is completely numb. Sedative drugs can be given with local anesthesia, to help people relax during the procedure.

The operation will not start until the anesthetic has taken effect. It is often necessary to make a small cut in the gum over the wisdom tooth, and to remove some bone so that the tooth can be lifted out. Stitches are usually put in to help the gum heal.
POST OPERATIVE CARE
Following the removal of your wisdom teeth it is important that you call our participating dentists if any unusual bleeding, swelling or pain occurs. The first 6-8 hours after the extraction are typically the worst but are manageable.

At first, it may be possible to feel small fragments of bone with your tongue. These are the edges of the tooth socket and will soon disappear as the gum heals. Depending on the type of stitches used, they may need to be removed. Arrangements will be made for this to be done. If dissolvable stitches have been used, they will disappear 7 to 10 days after the operation
Copyright © 2018 Classic Dental Clinic . All rights reserved